Here's the latest "how to" safety and security tips, industry trends, new products and services, new customer contact faces at Huronia, as well as our community involvement in the various events and charities that we support. To make sure you are receiving all of our news, sign up for eWaves, our e-newsletter.
Click here to see past eWaves issues.
---
SONOS - HiFi wireless speakers and audio components – now available at Huronia
Posted On: Monday, May 4, 2015
Huronia Alarms is now offering SONOS, a system of HiFi wireless speakers and audio components to fill every home with music.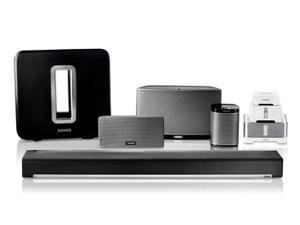 SONOS is making it easy for everybody to listen to all the music they love in every room of their home: with a free application on your phone/tablet/computer, you can play your entire music library, stream your favorite Music Services and tune in to more than 100,000 Internet Radio stations and podcasts.
With SONOS, you can enjoy music in any room (PLAY:1, PLAY:3, PLAY:5) create your 5.1 Home Theatre (Playbar, SUB, 2 players) or build a wireless system for a high quality sound with zero drop outs using your own speakers or stereo (Connect, Connect:Amp).
SONOS offers the easiest set up ever: plug a Bridge to your wifi router, press a button to connect your player to the system and it's done! Play what you want in every room over a dedicated wireless network.
Call or email us to talk about how to bring music into every room in your home – 705-445-4444.
---
For past articles please visit our news archive.