Here's the latest "how to" safety and security tips, industry trends, new products and services, new customer contact faces at Huronia, as well as our community involvement in the various events and charities that we support. To make sure you are receiving all of our news, sign up for eWaves, our e-newsletter.
Click here to see past eWaves issues.
---
Huronia Alarm & Fire Security Inc. makes a $4,100 donation to the Elmvale Foundation.
Posted On: Thursday, July 13, 2023
Huronia Alarm & Fire Security Inc. makes a $4,100 donation to the Elmvale Foundation. Helping to protect fresh water for future generations at the Elmvale Groundwater Observatory.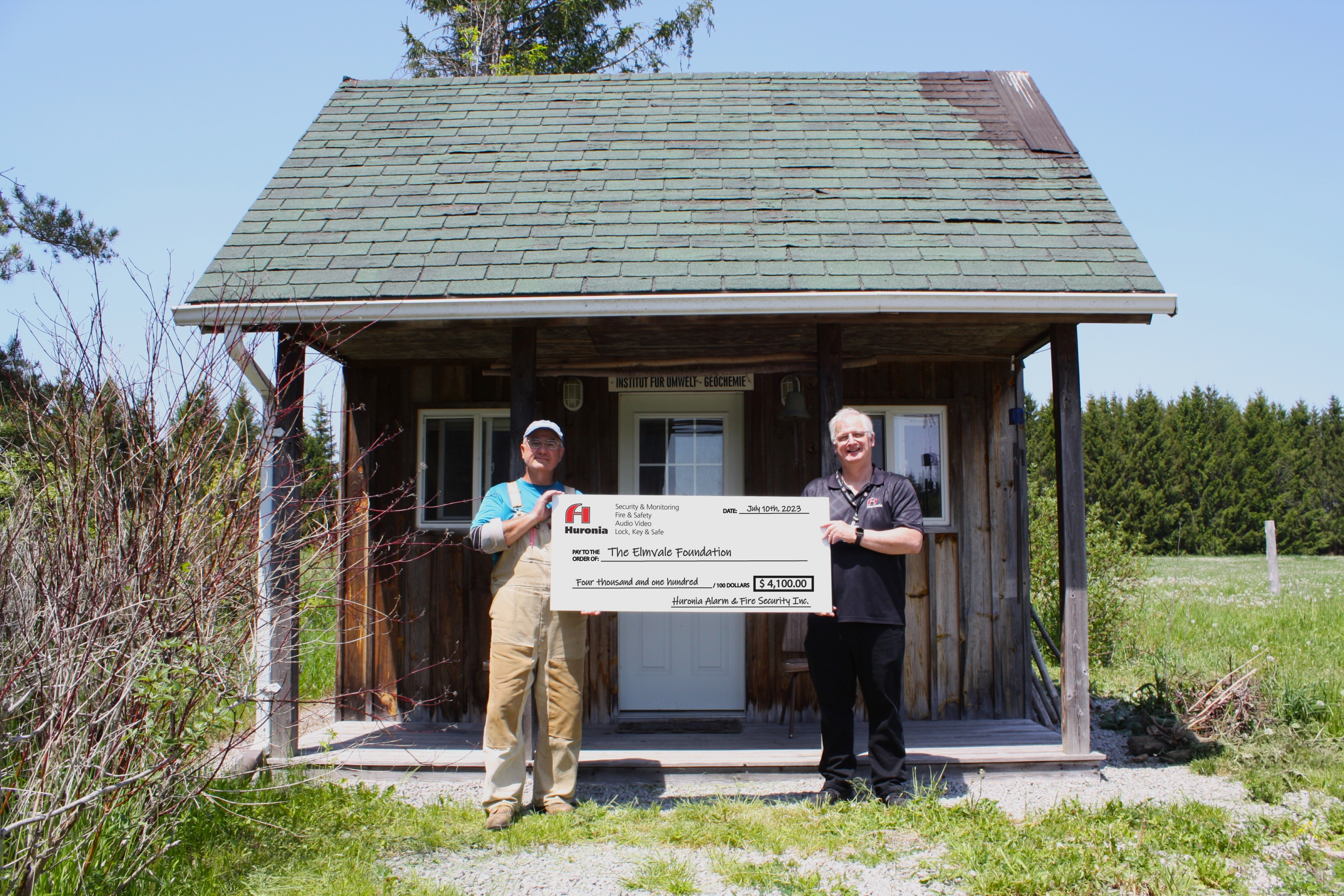 "All this was done out of curiosity," said Dr. William Shotyk, taking a sip of water from a stainless steel cup he'd filled from the artesian flow on his Elmvale, Ontario family farm. "I've always been interested in learning more about the water on and under this land and its geochemical uniqueness. For more than 30 years, first at my lab in Switzerland, later at my lab in Germany, and now at our ultraclean SWAMP laboratory at the University of Alberta, we have been shocked by the results of our testing and the remarkable purity of the water. The rest is history." Having discovered that Elmvale has groundwater cleaner than any other place on Earth (that has been tested), he and his team began their mission to educate, raise awareness and protect this unique natural resource and the geographic area in which it resides. The Elmvale Foundation and the Elmvale Groundwater Observatory were born.
Huronia Alarm & Fire Security Inc. (HAFS) also has deep roots in Elmvale and the townships of Springwater and Tiny. Almost as deep as the groundwaters at the Elmvale Groundwater Observatory. "This is a tight-knit community with families living here that go back generations. The residents are all keenly aware of the excellent work and environmental stewardship that The Elmvale Foundation has done to protect this unique natural water resource and the surrounding lands," said Kevin Leonard, COO of Huronia Alarm & Fire Security Inc. "When Dr. Shotyk reached out to us to ask for assistance in helping him protect and secure the farm property on which the Elmvale Groundwater Observatory is based, we jumped at the chance."
Shotyk went on to say, "The security cameras, alarm system and monitoring services that Huronia Alarm & Fire Security provided us have taken a load off my mind. It's also given my colleagues a safe and secure place to meet, plan our collective studies, and discuss our findings."
HAFS recognizes the importance of safe, clean drinking water today and for future generations. "People in the area always knew we had good water, and now, thanks to Dr. Shotyk and his team, we have the science to prove it. We're proud to support the research and education efforts of the Elmvale Foundation, and we look forward to learning more about their ongoing groundwater research efforts," said Leonard.
Huronia Alarm & Fire Security Inc. (HAFS) is Central Ontario's leading provider of home and business security and monitoring services, CCTV, fire and safety, lock, key and safe products and services, home theatre, audio and video consultation and entertainment room design, as well as cabling and smart home wiring for today's home automation requirements.
The Elmvale Foundation is a Canadian, federally registered charity for environmental education. "We protect what we value, we value what we understand." For more information about how you can get involved or donate, visit: http://www.elmvale.org/elmvalefoundation/
###
Photo Caption:
Kevin Leonard (right) presents Dr. William Shotyk (left) with a cheque for $4,100. Helping the Elmvale Foundation further their environmental science education and research of the pristine groundwaters of the Elmvale, Ontario area.
For more information contact:
Specific Inquiries relating to Media or Huronia Alarm & Fire Security Inc: Jaclyn Jones, President at Whiting & Holmes Limited, 289-337-3662, jaclyn@whitingandholmes.com
Specific Inquiries relating to the Elmvale Foundation: Dr. William Shotyk, President, info@elmvale.org
---
For past articles please visit our news archive.