Here's the latest "how to" safety and security tips, industry trends, new products and services, new customer contact faces at Huronia, as well as our community involvement in the various events and charities that we support. To make sure you are receiving all of our news, sign up for eWaves, our e-newsletter.
Click here to see past eWaves issues.
---
Huronia renews their Monitoring Station's Five Diamond Central Station Designation
Posted On: Wednesday, August 23, 2017
Through our membership in good standing with The Monitoring Association (TMA), we are pleased to announce that we have renewed our prestigious "TMA Five Diamond Monitoring Center" designation.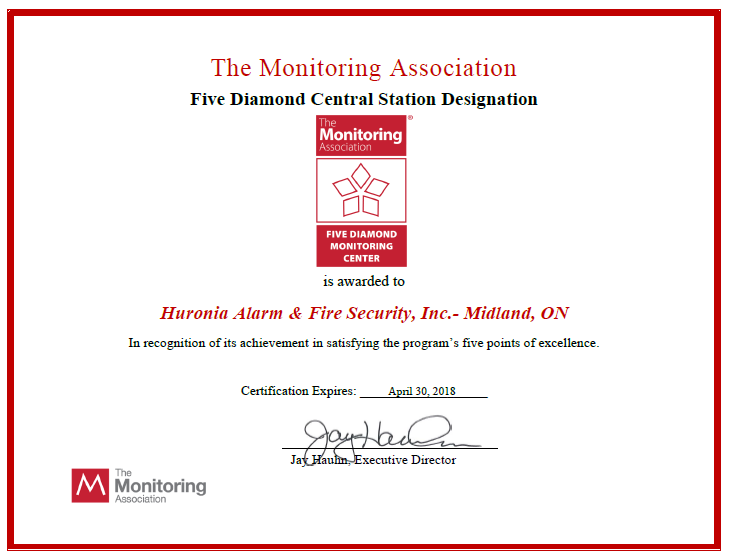 This designation is granted annually to monitoring centres that satisfy all of the requirements of the "five points of excellence", which include an ongoing commitment to education and testing, random inspections, raising the industry standards, reducing false dispatches and achieving the highest levels of customer service.
Of the central stations nationwide in Canada, which communicate and interact with the law enforcement, fire and emergency services agencies, fewer than twenty monitoring centres have achieved the Five Diamond designation.
This designation is important to us as it means we are among the best of the best in the industry. This designation is also important to you, our customers; because it ensures that the link we provide between our customers and the emergency services in our local area is of the highest quality. The result means an overall reduction in damage done to residences and businesses. It also means an increase in overall safety of families, friends and employees. Our Monitoring Station staff excel in the alarm confirmation process, which helps reduce false alarms, thereby saving time and money for our customers and emergency response personnel. Our staff's knowledge of the electronic communications equipment, codes and standards and various emergency preparedness scenarios means they are able to assist our customers with the highest level of competency in security, fire and life safety monitoring situations. Please join us in thanking our Monitoring Station staff for their continued pursuit of excellence.
---
For past articles please visit our news archive.