Here's the latest "how to" safety and security tips, industry trends, new products and services, new customer contact faces at Huronia, as well as our community involvement in the various events and charities that we support. To make sure you are receiving all of our news, sign up for eWaves, our e-newsletter.
Click here to see past eWaves issues.
---
Huronia donates $25,000 to Georgian Bay General Hospital
Posted On: Friday, May 8, 2015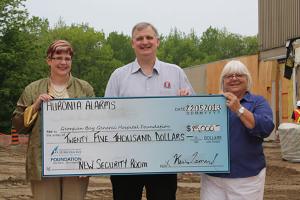 "Huronia Alarms has been an active and involved member of the Southern Georgian Bay community for over 40 years. So when Lynda asked us if we would be able to participate in the expansion of the Emergency Department we saw an opportunity to give back to this community in a meaningful way," said Kevin Leonard, President of Huronia Alarms.
Lynda Wolfhard, President of the Georgian Bay General Hospital notes, "Our hospital is unique because we serve as a catch basin for a very large geographic area and one that has grown from 18,000 patient visits per year when the unit was opened in 1976 to more than 45,000 visits this year. Huronia's generous donation toward the construction of the new Security Room in the new Emergency Department has helped move this very important initiative forward."
"We certainly want to thank Huronia and our other corporate sponsors," said Karen McGrath, President and CEO of GBGH. "The ED redevelopment project will not only help with patient capacity issues but it will also aid us in our work to reduce wait times and improve the patient experience in our hospital."
Huronia Alarms is Southern Georgian Bay's leading provider of home and business security and monitoring services, fire and safety services and products, as well as home theatre, audio and video consultation and entertainment room design, cabling and smart home wiring for today's home automation requirements.
---
For past articles please visit our news archive.