Here's the latest "how to" safety and security tips, industry trends, new products and services, new customer contact faces at Huronia, as well as our community involvement in the various events and charities that we support. To make sure you are receiving all of our news, sign up for eWaves, our e-newsletter.
Click here to see past eWaves issues.
---
Huronia Alarms has acquired Blue Mountain Lock, Key & Safe
Posted On: Monday, May 4, 2015
Huronia Alarms has acquired Blue Mountain Lock, Key & Safe, a leading Southern Georgian Bay locksmith company located in Collingwood, Ontario.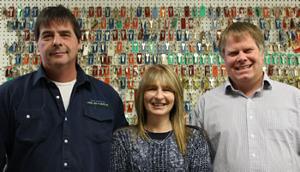 "We are very pleased that Roger and Kim Gagne have agreed to join the Huronia family", said Kevin Leonard, President of Huronia Alarms. "The locksmithing services they provide for residential, commercial, industrial and property management customers was a natural extension of our Security, Fire and Safety and Home Theatre wiring and installation businesses".
Started in 1977, Blue Mountain Lock, Key & Safe is well known in the Georgian triangle for a broad range of "key" related activities from simply making new ones for home, work and cars, to changing and repairing locks, as well as broader areas of security advice, safe and hardware installation.

"Our relationship with Huronia started many years ago" noted Roger Gagne, President of Blue Mountain Lock, Key & Safe. "So having worked with them we knew that they had the same business philosophy and values as we do. And that translated into our customers not only continuing to enjoy the high level of products and services we have been known for, but now they will have access to a larger array of security services ... including the quickly growing home entertainment and smart homes segments being required in today's marketplace."

Blue Mountain Lock, Key & Safe will continue to reside and operate 24/7 at 313 Huronia Street, in Collingwood and will be moved Huronia's Collingwood Office in the first quarter of 2014.

Huronia Alarms & Fire Safety Inc. has been in business for over 40 years and is Central Ontario's leading provider of home and business security and monitoring services, CCTV, fire and safety, lock, key and safe products and services, home theatre, audio and video consultation and entertainment room design, as well as cabling and smart home wiring for today's home automation requirements.
---
For past articles please visit our news archive.